Sometimes it's the little things that remind you why you get up in the morning and do what you do. For me, it was this farmhouse table build.
I was contacted by a friend of a friend, Samantha, who was very much interested in a custom farmhouse table for her kitchen. She sent me some images of some tables she liked, and that saved me a lot of time in determining what style she was after. We settled on a price, and I was eager to get started. I took pictures every step of the way, and while this is not a "how-to-build-a-farmhouse-table-step-by-step-with-Luke-Andrews", it should give you a pretty good idea of the techniques I used.
As with everything I build (and I mean everything), it starts with a SketchUp model. This not only helps me with accurate dimensioning and pre-build problem solving, but also helps the customer understand what it will look like and leaves as little to the imagination as possible.

Once Samantha understood what materials would be used and the style of the table, I culled out some white oak we have in stock. I wasn't too concerned about knots at this point, because I knew she was after that old farmhouse table look. When culling the boards, what I was most interested in was straight-grained, flat boards with as little crown as possible.
After the culling, using a combination of the Festool and the table saw, I got rid of the "factory edge" on the boards to ensure a tight fit during the glue-up process.
Once all the edges were straight, it was time to add the splines. I'm quite sure that we did not invent this technique, but we use it on our table tops to ensure that the top will stay together for decades.
The splines add a tongue and groove effect to the wood without the hassle of making an actual tongue and groove. A simple spline router is used to create the groove, and I trimmed down some poplar we had lying around for the splines themselves.
Once I was sure that the boards and splines would fit together perfectly, it was time to turn this stack of milled wood into a bona fide table top by edge-gluing them together with epoxy. A lot of people like to use wood glue for this (which would work fine), but I chose epoxy for its void-filling properties. You may have noticed that the splines were ever so slightly smaller than the grooves they were going in. I want those voids completely filled with thickened epoxy so I can be sure this top will never crack at the joint.
The un-clamping of the table top was one of my favorite parts of the project, because it meant that it was time for some really fun joinery work. I took the clamps off, sanded down the top, filled whatever knots and scratches left on the face of the table with clear epoxy, and cut it to size. It was time to add the bread board ends.
The importance of bread board ends cannot be understated, especially with a table top you want to last for generations. Think of the wood grain always wanting to curl up, even after the edge gluing process. The end "cap" of the two ends prevents this from happening. It's not enough to simply glue the bread boards onto the ends of the table; we want interlocking joinery to create a physical joint and keep the end from curling, even if the glue fails.
To accomplish this, I created a jig using careful measurements and a rabbit bit on my router. Jigs are important with this kind of work. My Dad taught me everything I know about templates and jigs - thanks Rick!
It went together beautifully. There is nothing more satisfying than lightly tapping in two perfectly fitting wooden members.
After the dry fit, the bread board ends were glued using epoxy and clamps. 24 hours later, the clamps were removed, the excess epoxy sanded away, and I was left with a beautiful table top ready to be sanded and finished with polyurethane.
Applying the polyurethane finish was hands down my favorite part of the project. I applied 5 coats in total (3 on the top, 2 on the bottom), buffing the last coat out by wet sanding. For the final buff, I used steel wool and paste wax to give it that silky smooth feel and desired sheen.
So the table top was more or less finished! On to the base!
Samantha decided she liked the old farmhouse table look, which is heavily defined by the legs. I had to outsource the legs as I do not have the means of turning my own, but I was able to find a great deal on these heavy parawood legs on Etsy. I was very pleased with the quality.
I mortised the legs to allow for a 3.5" skirt all the way around. These thick legs and a hefty 5/4" thick skirt provide the stability needed on a mid-sized dining table. Again, using templates guarantees consistency amongst the joints. I glued the skirts into their respective mortises, sanded the base after the epoxy cured, and painted it. Samantha chose classic white to complete the farmhouse look.
If you have never built something before, I highly encourage you to do so. Many people are not creative individuals, but that is okay. It doesn't have to be perfect. Just make something. Because you'll realize it's not about the end product. It's about the journey of creation, about that feeling you get when you come up with an idea, try at out, and see that it is beautiful because you simply willed it into reality. Nothing beats that feeling, and I felt it as I was combining the painted base with the finished top.
I gave the table top one last polishing with steel wool and wax paste before delivery. This really brought out the sheen and pronounced the wood grain beautifully.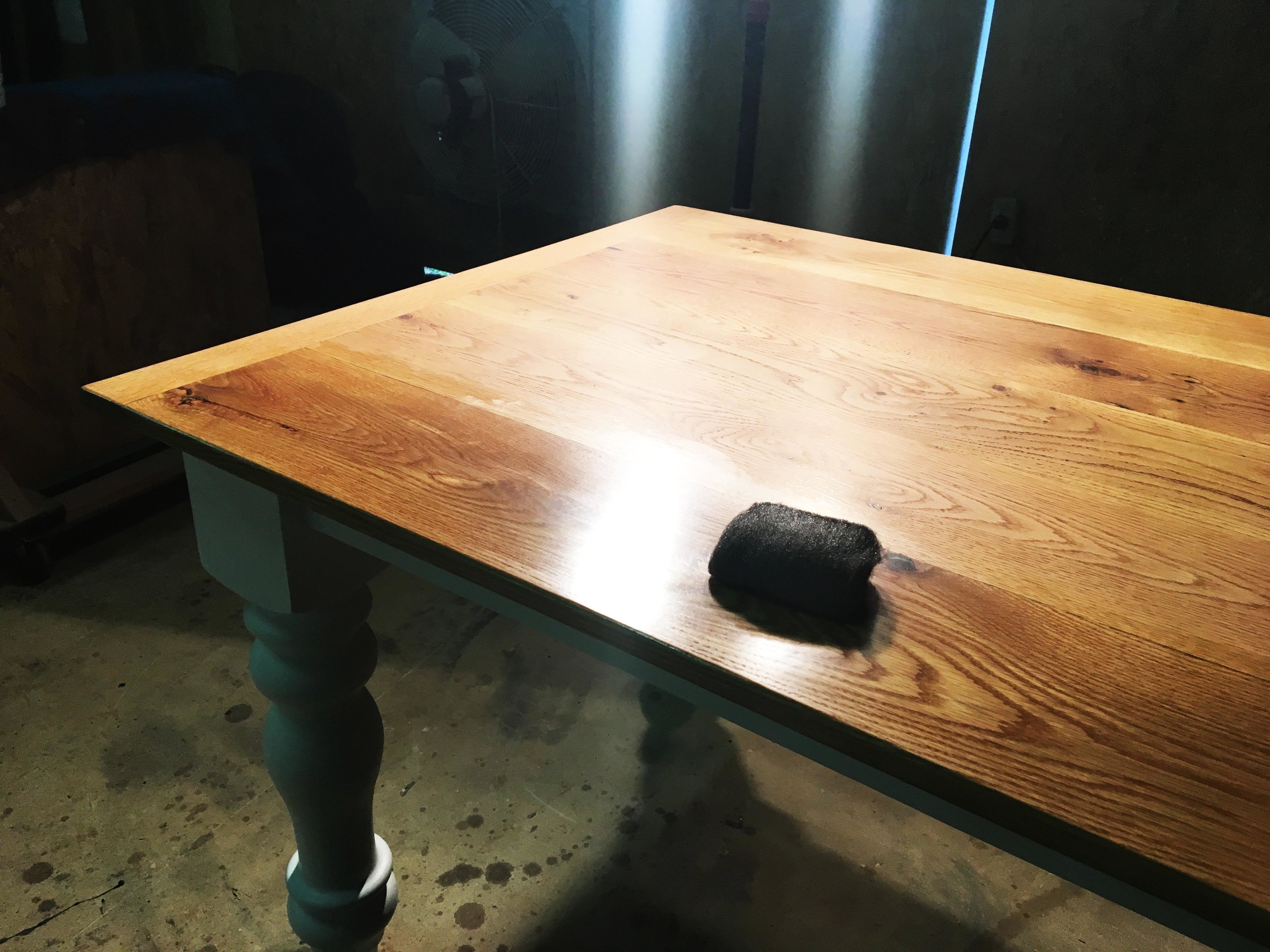 When the time came to deliver the table, Samantha was so excited! These next images of the final product are all from her, so thank you Samantha for these great images and allowing me to build this table for you. I hope you and your family enjoy it for decades to come. Cheers!